Hello friends! Welcome to the official blog of Grand Magnolia Ballroom and Suites. Coming to you from the corner of Live Oak Avenue and Magnolia Street, my name is Amy Chenoweth. I am co-owner, innkeeper, manager, event specialist, wedding enthusiast, part-time plumber, cat herder and so much more for our little family-owned and operated business here in Downtown Pascagoula.
Although you've got me today, you may be hearing from our other immediate and extended family members with future blogs such as Kathy or Richard Chenoweth, Ms. Evelyn, Charlotte and maybe even a telekinetic chat with the cat, Maggie Magnolia… if we're feeling frisky.
For our first post, I will be giving you a digital tour through our boutique hotel. My goal is to put Grand Magnolia on your short list of destinations when planning your next weekend getaway, staycation, anniversary, birthday surprise or any other reason you may need to treat yourself to a night away from normal.
Originally built in 1894, our 7,500 square foot, two-story home has been rebuilt since Hurricane Katrina in 2005, back to its original 'Grand' design. Guest access includes: a parlor room with local flyers and brochures to peruse to get you started on planning your visit through Coastal Mississippi; small dining room as well as family-style dining room to take care of business, bring in lunch, dinner or get a game or two going; TV parlor is perfect for when the game is on or the final episode of American Idol is airing… whatever tickles your fancy.

Our seven-suite boutique hotel provides travelers with an intimate, at-home feeling when traveling for business or pleasure. Each of our suites has a private bath and vanity, central heating and air that can be adjusted in your room, wireless internet connections both upstairs and downstairs and a welcome booklet that includes our local recommendations and any other information you may need while staying with us.
Our digital tour starts on the first floor with the Garden Room and Little Gem suites. The Garden Room is our fully handicap-accessible suite with a queen bed and guest entrance off our back porch. The Little Gem Suite also provides porch entrance as well as an entrance through the main house. With a king bed and larger floor plan in the Little Gem, both first floor suites are guest favorites… especially with my brides and grooms.
Moving upstairs you'll find five suites have been themed to mirror some other great destinations throughout our country. Each with a queen bed, the New Orleans, Key West, Charleston Square and Cape Cod Suites have their own individual touches of charm. I tell my guests, you can't go wrong with any of them, it all depends on your personal style. The final second-floor suite is the Old Savannah. As my largest floor plan suite with four-poster king bed and beautiful antique sofa, this suite is another traveler favorite, especially with my honeymooners.
Let's not forget to mention the beautiful wrap-around porches and courtyard area just outside of our gorgeous home. Soak up some sun, fresh air and sweet floral aromas from our garden. You may also get a chance to visit with our resident pet, Maggie Magnolia. Don't worry… if you're not a cat person, she knows what 'Shoo' means.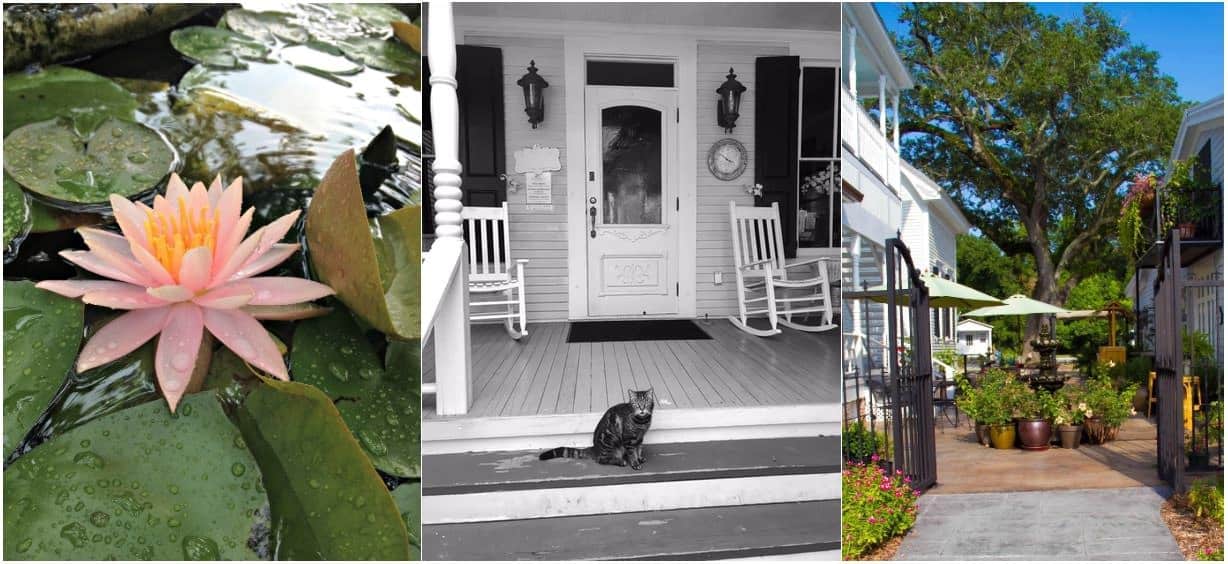 Thank you for stopping in today to see what's fresh and hot off the press here on the corner of Live Oak and Magnolia. Looking forward to continuing the conversation and maybe even planning our next chat over coffee in a comfy rocker on the porch here in Downtown Pascagoula at the Grand Magnolia Ballroom and Suites.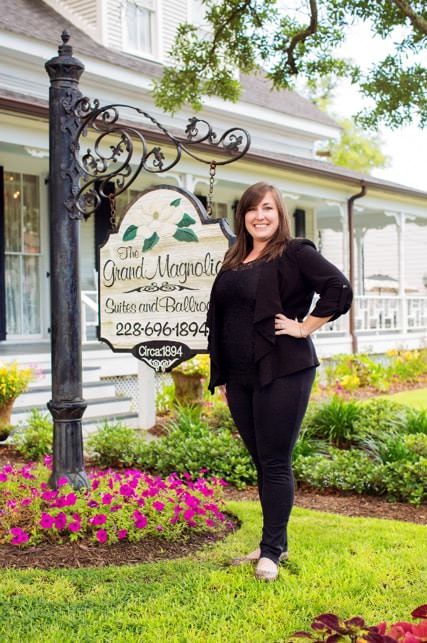 Amy was born and raised in Pascagoula, MS. Spending most of her summers helping at Scranton's, the original family business, Amy has always had a knack for hospitality. After graduating from Mississippi State University with a degree in Marketing, she became the official Marketing Director for Scranton's Restaurant and Catering. During this time, she also attended William Carey University where she graduated with a Master's in Business Administration. In 2013, when her family purchased the Grand Magnolia, she took over as General Manager and Innkeeper.  In what little free time she has, you will find Amy enjoying coastal living on the water or at the islands. She loves good food, good friendships and good wine.